How Can I Reduce My Carbon Footprint?
Our 10 Ideas
Whether you live in the UAE, the Middle East, or anywhere in the world, climate change has become an increasingly complex challenge every year. Hotter temperatures, more severe storms, increased drought, food shortage, and large-scale ecological disruption are just some of the issues we're facing worldwide.
Therefore, there's a growing need for a unified global response in which every individual adopts a more sustainable lifestyle. By shifting our attitudes and behavior, we can address some of these issues ourselves and influence others to get on board the change wagon.
If you don't know where to start, that's alright. In this post, RECAPP is sharing tips about how to reduce your carbon footprint so you can learn simple ways to make a huge difference.
Measuring Your Carbon Footprint
"Carbon footprint" is one of the most common environmental terms. By definition, it is a way to measure greenhouse gas (carbon dioxide, methane, CFCs) emissions from human activities. The amount is typically denoted in tons per year.
For individuals, a more straightforward way to measure carbon footprint is by paying attention to regular activities that release greenhouse gases. This includes transportation, electricity use, dietary choices, purchasing habits, and general waste.
How to Reduce Carbon Footprint – Our 10 Ideas
We've entered a critical stage in human history where pursuing a sustainable lifestyle is no longer a choice but a necessity. RECAPP has gathered 10 of the most immediate actions anyone can take to reduce their carbon footprint:
1. Limit the Use of Plastic
Plastic is among the main contributors to pollution worldwide, with hundreds of millions of tons of waste in landfills, cities, and oceans. According to a report by Gulf Today, people in the UAE consume around 11 billion plastic bags annually. This is equivalent to nearly 1,200 bags per person – nearly four times the global average.
Thankfully, measures to prevent the use of disposable plastic products are starting to flourish in the UAE. For instance, since the 1st of July 2022, the Dubai Municipality has taken drastic measures to limit the use of plastic by starting to ban the use of disposable plastic bags in markets. All stores must apply a charge of 25 fils for each single-use bag, and a different charge can be placed on sustainable or reusable alternatives if provided by the store. Moreover, stores are not obligated to provide free alternatives as the goal is to push a change in consumer behavior in order to preserve the local environment. The scary fact is that there are hundreds of other uses of plastic, from packaging to containers, construction, transportation, machinery, etc. Therefore, the best way to reduce your carbon footprint is by limiting your personal use of plastic. Here are some ways to do this:
Use a reusable water bottle,
Switch to metal, wood, or paper straws,
Avoid excessive packaging,
Avoid single-use disposable products (cutlery, crockery, cups, etc.),
Cook more,
Switch to fabrics, cotton, or any other type of reusable bags, etc.
2. Switch to Green/Greener Air Conditioning
We understand that air conditioning is a staple in the UAE due to its hot and dry climate. A recent study revealed that residents rank it higher than cars or the internet in their list of necessities. So, if you want to reduce your carbon footprint without tweaking your lifestyle, you need to switch to a green or greener cooling solution.
For instance, you can upgrade to an eco-friendly, more energy-efficient air conditioner with smart thermostat control. You can also move into a building with central cooling or turn it off when you're not using it.
3. Switch to Sustainable Mobility
Another major contributor to environmental degradation is fossil fuel emissions from vehicles and airplanes. If you're looking to reduce your carbon footprint, you need to switch to more sustainable mobility. While the best way to do this is to travel less, it may not be possible for everyone. Therefore, the more viable solution is to rethink how you travel.
For instance, instead of using your car every day, you can opt for public transportation. You can also try carpooling with your colleagues and friends, or investing in a cleaner vehicle like an EV (electric vehicle).
4. Incorporate Walking or Biking into Your Lifestyle
In many cases, we can walk to where we need to go. However, due to our perception of time, we prefer to drive and get things done quickly. If you're pursuing a more sustainable lifestyle, walking and biking are the best alternatives to vehicles. Plus, they can help you add exercise to your busy schedule.
5. Turn off Lights and Unplug Appliances/Devices When Not in Use
One of the most important things to understand about reducing your carbon footprint is that every little action counts. We often forget to unplug our chargers, devices, and appliances after using them. Similarly, we either don't take advantage of natural light or forget to switch off our lights when we don't need them.
By actively managing your devices, you can reduce your energy consumption and save money in the process. You can also switch to energy-efficient lights and eco-friendly devices to use even less energy.
6. Switch to Solar Power
Another great way to reduce your carbon footprint is by using solar energy to power your home or devices. This might call for a hefty initial investment. However, you'll be saving a lot more money in the long run. Plus, you don't have to switch completely. You can opt for a hybrid solution to reduce your energy demand from conventional sources.
7. Proper Waste Disposal
Poor waste management is one of the main causes of environmental degradation. Therefore, we need to employ a better strategy to dispose of general waste and unwanted items from our property. Fortunately, you can hire the services of a recycling company in the UAE to segregate and safely dispose of waste materials.
8. Tweak Your Diet
Did you know that eating more plant-based foods and reducing your meat intake can reduce your carbon footprint significantly? Raising livestock produces far more greenhouse emissions compared to growing crops. Therefore, by tweaking your diet, you can reduce the demand for livestock products, such as meat and dairy.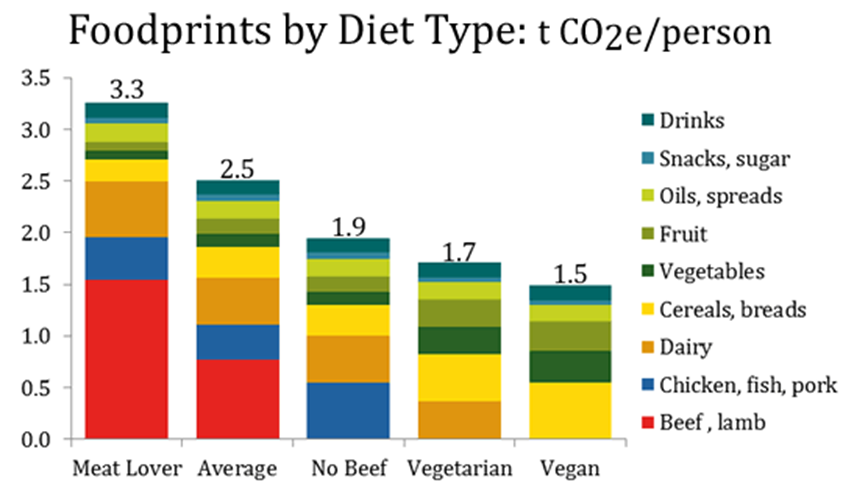 9. Rethink Your Fashion Choices
Another popular way to lead a more sustainable lifestyle is by opting for second-hand clothes. This might not sound ideal to many people, but the practice is becoming more popular in different parts of the world. You can also find mobile apps offering used clothes. If you don't want to purchase them, you can at least sell your own instead of throwing them away.
10. Reduce Cooking Emissions
Did you know that the kitchen is one of the main sources of carbon emissions in our homes? In Asian and Middle Eastern countries, household cooking, cooling, and lighting can account for anywhere between 25 and 60% of total energy usage. Fortunately, there are several ways to reduce your cooking emissions, such as:
Buying better cooking equipment,
Switching to induction technology,
Using air fryers to save oil and energy (up to 25%),
Buying local, seasonal ingredients,
Buying a greener refrigerator, etc.
So, there you have it – how to reduce your carbon footprint in 10 simple ways. Granted, many of these strategies will require behavior modification or an initial investment. However, these changes will pay off in the long run.
If better waste management and disposal are what you're aiming for in your quest to lead a more sustainable lifestyle, download Recapp and opt for UAE's first free waste recycling service.